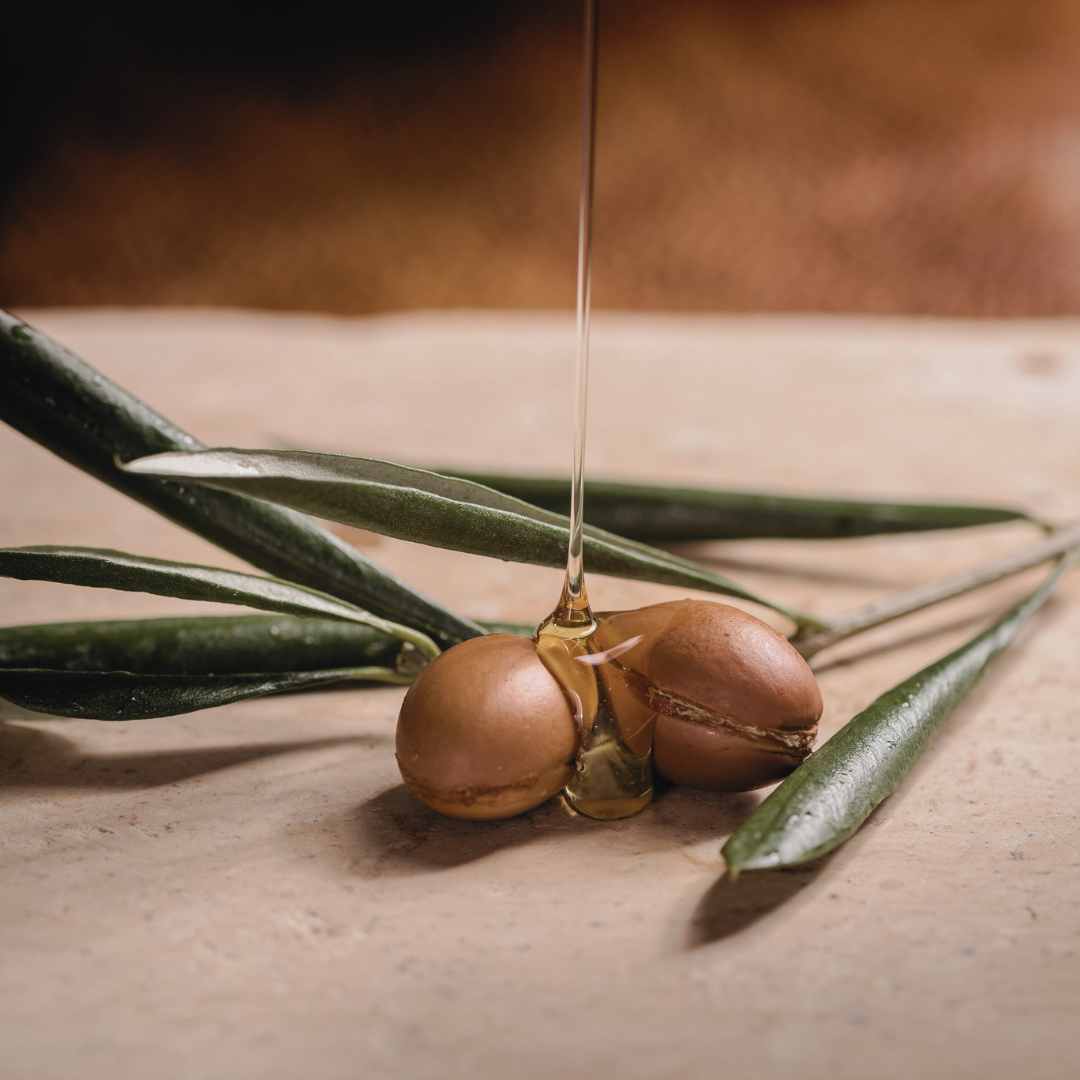 Argan Oil plays a role in reducing redness, inflammation, stimulates wound healing and repair of the damaged skin barrier function. It is a beloved cultural staple in many beauty regimes. It has a celebrity following all over the world, even with adventurous tree-climbing goats.
In part one of this 3-part series detailing our formulation story for Harmonia Golden Chamomile Night Cream
I detailed the clinical evidence supporting our star ingredient, golden chamomile (Chrysanthellum indicum) extract in treatment of rosacea.
It is my pleasure now to introduce to our readers to another key ingredient. It plays a role in reducing redness, inflammation, stimulate wound healing and repair of the damaged skin barrier function. It is a beloved cultural staple in many beauty regimes. It has a celebrity following all over the world (and even with tree-climbing goats): Argan Oil. 
My daughter and I balance natural ingredients with highly efficacious naturally derived synthetics.
We wanted to use a natural oil as the base for our new night cream. Following Dr. Leslie Baumann's recommendation, we chose argan oil for Harmonia Golden Chamomile Night Cream. Based on her clinical practice Dr. Baumann's argues that argan oil "reduces redness better that licorice extract, feverfew, and prescription azelaic acid and metronidazole" (from Leslie Baumann "Cosmeceuticals and Cosmetic Ingredients", McGraw-Hill Education, 2015).  She goes on, explaining that because argan oil is one of the most expensive vegetable oils, most products have too little of it for the efficacy to be evident. Not in our cream!  We have 41 % of argan oil in the oil phase and overall, 13 % in the cream. 
Argan oil has been used for hundreds of years in Morocco.
It was appreciated as food for health benefits, and used topically to treat acne, psoriasis, dry skin and hair. It has been recognized in folk medicine for its bactericidal, fungicidal, and anti-inflammatory properties. In recent years, argan oil has become a real superstar in cosmetics, used in numerous oil blends and creams, loved and endorsed by many celebrities, including the Duchesses of Cambridge and Sussex.
Conscious formulation requires formulating for a specific skin type.
Rosacea is caused by chronic inflammation of unknown origin.  Hyperactive vasculature in the skin is prone to excessive vasodilation hance facial redness. The skin barrier is disrupted leading to excessive loss of water. In simple terms: the skin needs added protection! Effective moisturization is a must in both rosacea and acne since damaged skin barrier leads to dehydration.
Rosacea causes can be challenging to pin down.
Especially because recent studies also indicate that changes in skin microbiome may play a role. It is not clear if altered population of skin resident microorganisms is the cause of the immune disfunction in rosacea or its effect, but certainly the skin barrier could use a boost. In general, cream formulations are considered better than thin lotions or gels for this skin type, so our ultra-rich cream is a perfect base, and nothing creates a luxurious cream like Argan Oil.
Cosmetics for rosacea prone-skin as well as for equally sensitive acne-prone skin and should be non-irritant, non-comedogenic, non-acnegenic, and non-allergenic. A tall order! It is a tough requirement given that comedogenicity is still a debated dermatological concept.  In addition, comedogenicity, acnegenicity and irritancy of a cosmetic ingredient depends on its concentration in a formulation and the susceptibility of the user. Given all these factors, it is no wonder some consumers with sensitive skin are wary of doing trial and error on their own skin! So, to be extra cautious with the skin of our customers, I eliminated all ingredients known to be comedogenic, irritant, allergenic, or acnegenic when we formulated Harmonia. (However, it is always a good idea, especially for those with sensitive skin to test the product on a small section of skin for a few days).
Effective sun protection is essential in rosacea since UVA and UVB light may trigger a flare-up. We decided not to add a UV filter to our cream, since it is intended as a night cream. However, it can also be used as a day cream in combination with an appropriate sunscreen. We suggest physical filters, rather than chemical UV filters, since these are best tolerated by sensitive skin and are a better choice for our environment and sustainability.
Antioxidant and anti-melanogenic properties of argan oil were demonstrated in skin cell cultures suggesting its utility for skin protection against UV radiation and resulting free-radical damage and hyperpigmentation. What does this mean? Put simply, argan oil helps protect your skin barrier. The antioxidant properties are attributed to the unsaponifiable fraction (i.e., non-fatty components), which in argan oil are approximately 1% of its weight. This fraction is rich in sterols, saponins, and polyphenols such as gamma-tocopherol, a form of vitamin E considered most efficient at scavenging free radicals. Not all Vitamin E is as bio-available and efficacious on the skin!
Digging deeper, I found promising clinical trials about Argan Oil.
Given this depth of understanding of the composition of Argan Oil, I was keen to use it in our formulation for treating symptoms of rosacea. One prominent study demonstrates the sebum-regulation of a cream containing argan oil.1 The study was conducted with twenty adult volunteers with oily skin who applied the cream to their faces twice daily for 4 weeks. The result was 33% reduction in physician's visual assessment. Forehead and cheeks had a highly statistically significant 20% reduction in sebum production and the percentage area covered by sebum decreased significantly by 42%.
In another study2, argan oil improved skin elasticity in forearms of sixty postmenopausal women who were also consuming either olive or argan oil for two months. This study had no control group, which unfortunately diminishes its scientific value.
So, somewhat surprisingly for such a famous cosmetic ingredient, in case of argan oil, the anecdotal evidence seems to prevail over documented clinical evidence of its efficacy. That of course does not mean that hundreds of years of human experience counts for nothing! This is a constant difficulty of the scientific community interfacing with cultural wisdom traditions. As a chemist I understand that this issue boils down to a simple funding availability for this type of research. How likely is private funding to support a project with no prospect for patent protection… But that's another story!
1Dobrev H. J Cosmet Dermatol. 2007 Jun;6(2):113-8).
2Boucetta KQ et al. Clin Interv Aging. 2015 Jan 30;10:339-49
Harmonia | Golden Chamomile Night Cream